12 weeks to the start of the World Cup Finals 2006 in Germany, and I feel duty bound to spread the word about the planet's most popular sport's biggest festival, so I will post every Friday until after the tournament is over.

This week's post is short as it was definitely the most forgettable tournament of them all since I've had an interest.

Noone would argue it was a great French team, many would argue it was an anti-climax of a tournament
If a clairevoyant had told me in the early on in 1998 that I would get my first dose of chicken pox that summer AND be able to take time off work to watch a world famous sporting event staged in France, I probably would have kissed him or her.



I was working as manager of a sports store at the time, and between long hours and commuting PLUS two young children to see to at home, I would have barely had the time to turn on the telly let alone watch any of the World Cup being held in France.

Unfortunately for me, my illness was to strike right AFTER the competition ended, which left me at home for two weeks with nothing but the bloody Tour de France to provide sporting distraction.

Still, missing out wasn't such a bad thing, since Ireland had not quite qualified, missing out in a play-off to the Belgians. Also, for me anyway, it was a pretty forgettable tournament overall.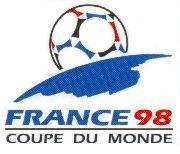 It didn't even start with an upset as previous competitions had. Many fancied Scotland to get something out of the holders Brazil on opening day, sadly they fell 2-1. Most of the fancied teams coasted through their first round groups, with the possible exception of Spain. The most interesting thing about the first phase for me was that the USA had been drawn in a group with three countries with which they have had military trouble; Germany, Yugoslavia and Iran, and lost to all of them. In soccer that is.

Once again England thought they had a team to take it all the way, once again they bowed out on penalties, this time to their own former battle adversaries Argentina. The tournament's surprise package were Croatia, who made it all the way to the semifinals.

The final was between France and Brazil, and here, all the real drama took place before kickoff, as the Brazilian wunderkid Ronaldo took something of a nasty turn and was announced unable to play at the eleventh hour. Their spirit clearly broken, the Samba boys were easily swept aside 3-0 on the Sunday night in the one game I was actually able to watch from the comfort of my armchair.

It was clearly a tournament best forgotten, though the French did have a team worthy of the trophy – with players like Zidane, Desailly and the flamboyant Barthez in goal, it could not be said that they won thanks to home advantage alone.

You could say that when the final whistle blew in Paris that Sunday evening, I was itching for the next finals which were to be Japan and Korea. In actual fact, it was because my baby son had picked up the chicken pox from his creche.



Next week – JAPAN/KOREA 2002 : THE BATTLE OF SAIPAN