TEN TOPICS…
NO PARTICULAR ORDER…
ONE MAN'S OPINIONS…
FIFTY WORD LIMIT ON EACH…
DON'T FORGET TO VOTE FOR ME…
•
HEADING?
: This week's guest language for Yahoo's
translator tool
is of course Russian. When you run it back through into English it comes out : "TO A LITTLE PAMPER THE ODD SHAG JL Pagano". That's the closest to the original so far.
•
TUNES
: To honour their amazing 5-for-5 achievement in
Grammy
nominations/awards, I've been on a U2 buzz in the car lately, with my favourite album of theirs, "The Unforgettable Fire" currently getting airtime. What do Bono & co have to do for their legacy to match that of the Beatles?
•
SHAME
: I still cannot comprehend this story. According to the
Daily Mail
, the Congo Football Federation decided to wait until their team was eliminated from the recent African Nations Cup before they informed captain Lomano LuaLua that his 18-month-old son had died from a "mystery illness" three weeks before. Absolutely disgraceful.
•
PUNS"R"US
: Since no matter how many records Elvis Costello sells, he will never eclipse the total of his namesake Mr Presley, does that make him The Lesser Of Two Elvis'?
•
BUSHBASHING
: This week's BushBash is unusual in that I actually feel a bit sorry for the guy. Talk about being between a rock and a hard place – he could hardly avoid Coretta Scott King's
funeral
, yet it was the perfect opportunity for his political opponents to criticise him to his face.
•
MOMMA
: Give me a choice between going to see "Big Momma's House 2" and having my eyeballs pickled, skewered on a cocktail stick and served in a giant martini, I'd gladly spring for the glass. I'm sorry, but this looks like a movie for morons.
•
COMIC
: Best of luck to fellow blogger, Shaggy award winner and regular ABOPATOS visitor Dol for her new comic
Don & Doll
. If it's anything like her previous effort
Tales of a Receptionist
, it will be well worth following.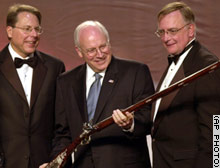 •
DICKBASHING
: It appears the much sought after "smoking gun" has finally been found. Turns out VP
Cheney
had it all along, as one of his millionaire buddies literally got it in the neck while out hunting for quail. Or was it Quayle?
Jon Stewart
won't be short on material this week!
•
LINK
: This week's link shout-out has to go to CurlyK at "
That Friday Feeling
" for being mad enough to link all three (count 'em) of my blogs! She'll see sense soon enough I'm sure...
•
GOOGLING
: Latest phrases to lead people here include …

"new mexico army specialized training program"

"all politics is local who said it first"

"kickin dance"

"sandra storms" *

"sean moncrieff united texters" *

"mairead mcguinness adoption" *

"colin mcglinchey barman" *



I hope they all found what they were looking for.
Google phrases of the week courtesy of StatCounter.com

* = from my Irish Blog